Currencies Direct Money Transfer Exchange Rates Versus Banks
Transfer money overseas in a few simple steps using Currencies Direct, a fast and simple way to send money overseas with bank-beating exchange rates!
Currencies Direct UK Pound and Euro Exchange Rate Comparison
Currencies Direct won't charge transfer fees and their rates are great too. You can transfer money to your own or another person's bank account abroad (or directly to a business bank account). UK pound and euro exchange rate examples below:
| Bank Name | FX Broker Comparison | FX Rate | GBP and EUR | FREE QUOTE |
| --- | --- | --- | --- |
| Currencies Direct | *0.65% to 1.0% | €1.083 to €1.086 info | Enquire |
| Typical Bank Rates | *1.9 to 6.2% | €1.025 to €1.072 info | Enquire |
| Currencies Direct | *0.65% to 1.0% | £0.907 to £0.91 info | Enquire |
| Typical Bank Rates | *1.9 to 6.2% | £0.858 to £0.898 info | Enquire |
UK pound sterling (GBP) and euro (EUR) currency rates are updated daily at 09:00 GMT.
*Note: A lower FX Rate will give a better exchange rate when transferring money to/from euro. Currencies Direct can save you up to 5% of the transaction value as their FX margin rates are low at 1.0%.

Banks typically apply an exchange rate margin of somewhere between 2 and 6 percent on overseas transactions to other currencies, such as the euro (EUR) or the US dollar (USD). This means that if you were to make a bank transfer overseas using a standard bank service, then you could potentially lose thousands of pounds due to the poor foreign exchange margin rate offered by banks.
Currencies Direct – Foreign Exchange Specialists
Currencies Direct is one of Europe's oldest (and largest) foreign exchange specialists. In fact, they were the first company in the UK outside the banking industry to offer specialist currency services and have helped more than 150,000 corporate and personal clients, and they process $4.5 billion in currency payments every year.
Currencies Direct Rate Watch & Alerts
Setting up a Rate Alert is basically telling your Currencies Direct personal dealer what exchange rate you're interested in, and what you think is an acceptable deal. They will then assign a member of their team to monitor the markets for you, who will notify you when the rate becomes available.
Banks simply don't have the time to offer this service, which is why they're less useful for big decisions (like moving abroad or buying overseas property). With a Rate Watch, you can set up as many searches as you like and leave the rest to your Currencies Direct personal dealer.
Most importantly, when your desired rate arrives, you're under no obligation to actually trade. It's just a great way to keep abreast of what's happening in the currency market so you know when the best time is to start trading if you need to.
Currencies Direct Client Security
Currencies Direct Ltd is authorised by the Financial Conduct Authority as an Electronic Money Institution under the Electronic Money Regulations 2011. Their FCA Firm Reference number is 900669.
In addition, Currencies Direct subscribe to the Non-Investment Products code created by the Bank of England which regulates companies involved in foreign exchange transactions such as spots and forward contracts.
To register with Currencies Direct, there's no obligation to trade, sign up free today: click here to register
Sign Up for a Free Account with Currencies Direct – Click Here
General Information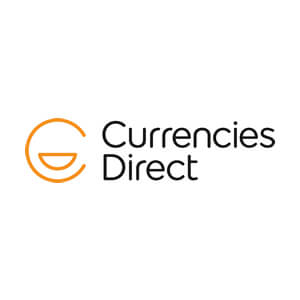 Details
Currencies Direct Euro Exchange Rate
Description
Euro and UK pound exchange rates for Currencies Direct versus high street bank rates, banks typically apply an exchange rate margin of somewhere between 2 and 6 percent on transactions.
Compiled By
Currencies Direct - Euro Transfer
Publisher
Website